---
In celebration of Earth Day, we've rounded up top campaigns that raise awareness of the climate crisis and champions sustainable practices. More campaigns can be found in our Earth Day creative compilation!
Havas Chicago
Advertising/Full Service/Integrata
Chicago, Stati Uniti
See Profile
Havas Chicago + Moen
Leading the charge is Havas Chicago's World Water Day campaign for water innovations brand, Moen. Havas Chicago has been the agency of record for Moen for 6 plus years; a valued partnership working towards Moen's commitment to save one trillion gallons of water and repurpose 2,000 tons of ocean bound plastic by 2030 as part of the Mission Moen initiative.
This World Water Day, to spotlight water scarcity and the need for change, Havas reimagined a future of what could happen if we aren't smarter about how we use water. At the center of the campaign are 3 iconic landmarks - Lake Powell, the Colorado River, and the Mississippi River – all currently threatened by water scarcity. The three campaign shorts show a bright postcard greeting that quicky fades into an eerie glimpse of the potential future these landmarks face if we're not smarter about how we use Earth's most precious resource – water.
Moen have already saved 178 billion gallons of water through product innovations! You can learn more about their progress at MissionMoen.com.
'The Colorado River provides drinking water for 40 million people and is currently experiencing rapid declines'
'The Mississippi River provides fresh water to 18 million people, but water levels are reaching record lows'
'Lake Powell's water levels are nearly 75% lower than they should be'
HeimatTBWA\
Advertising/Full Service/Integrata
Berlin, Germania
See Profile
Heimat TBWA\ + HORNBACH
HORNBACH's new campaign "Let nature do the job", created by Heimat TBWA\ in Berlin, tells customers, 'This spring, it's up to you to do nothing.'
Through four visually stunning films, viewers are encouraged to give more space to nature by spending less money, time and effort on their gardens. Step back and see what wonders arise when you let mother nature let loose!
VCCP
Advertising/Full Service/Integrata
Global
See Profile
VCCP + Just A Drop
This World Water Day, Just a Drop and agency of record VCCP launched 'The Walk To The Well' - a campaign to raise awareness of how a human's potential to achieve in life is limited when they don't have access to clean water.
The charity created the longest Twitter thread ever made to emulate the length that people in countries like Kenya, Uganda, Zambia, India and Cambodia have to walk every single day, just to get access to water. The thread told the story of Ann, a resident from Mwingi West in Kenya – one of many communities Just a Drop helps – on her daily walk to collect water. It took people from her house, on a grueling journey through physical threats and mental struggles to the area where she collects water.
The social media challenge encourages users to scroll, something many of us likely spend a lot of time doing already, and takes about an hour to properly scroll through, with the intention being that many people won't be able to complete it. When users give up scrolling and like the tweet at the point they've reached, an auto-reply is triggered showing the distance they've walked.
This campaign pushes people to understand and truly appreciate the value of water, while bring awareness to a crisis that deserves a long-term solution.
FRED & FARID Los Angeles
Advertising/Full Service/Integrata
Los Angeles , Stati Uniti
See Profile
Fred & Farid Los Angeles + Fridays For Future
In celebration of Earth Day, Fridays for Future, the global youth-led climate strike movement founded by Greta Thunberg, launches "Earth is no toy." The print campaign is comprised of images depicting G20 leaders as children - featuring child versions of Joe Biden (President of the US) Anthony Albanese (Prime Minister of Australia), Justin Trudeau (Prime Minister of Canada) and many more world leaders – all holding Earth like a ball with the tagline 'Earth is no toy'.
The aim of the campaign is to push G20 leaders to take the necessary steps towards addressing the climate crisis and protecting our planet. Time is of the essence.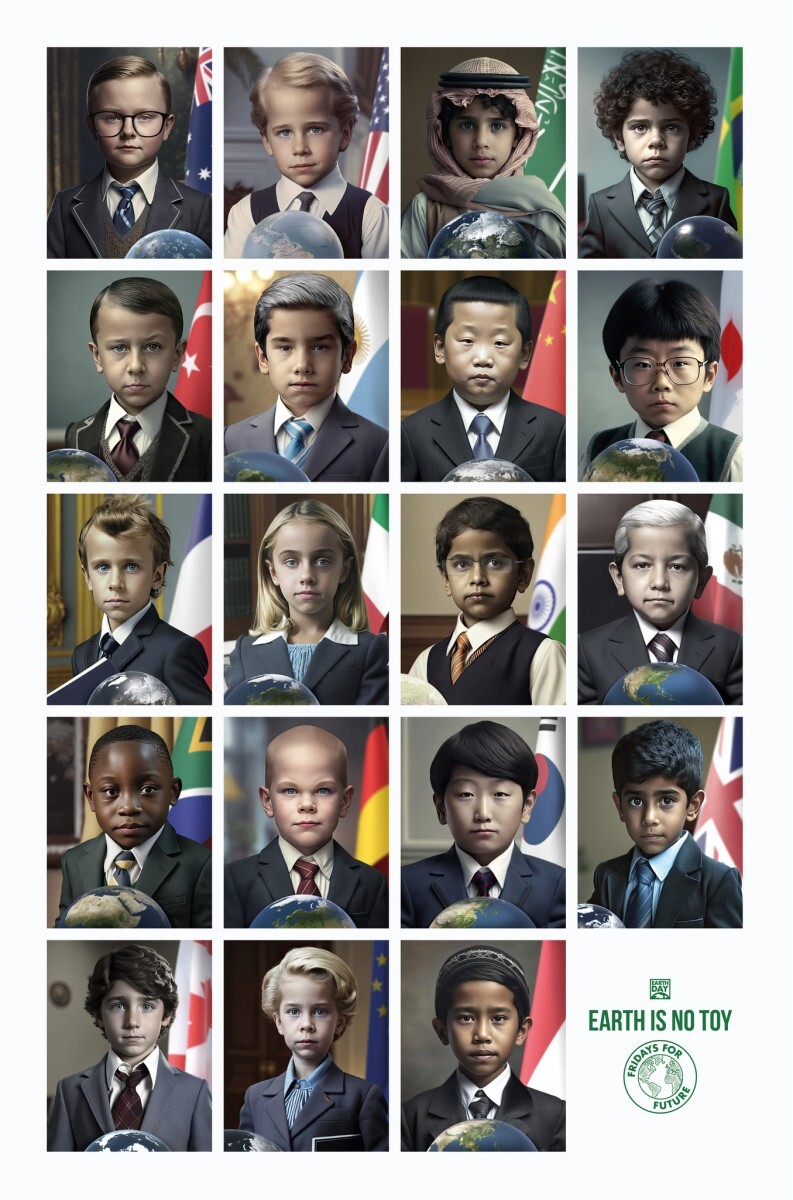 Havas London
Advertising/Full Service/Integrata
London, Regno Unito
See Profile
Havas London + Reckitt
Vanish, the Reckitt garment care brand committed to encouraging consumers to re-wear their clothes and raising awareness of clothing waste, recently partnered with some of Europe's biggest gamers and streamers to expand its #ReWear message into the world of gaming.
With the help of Havas London and Havas Play, the #ReSkinChallenge was created to highlight the growing problem of virtual 'fast fashion' and real-world clothing waste. It aims to combat the burgeoning virtual problem of mass-consumed skins or clothing that allows players to personalize their character in a purely aesthetic way.
Just like in real life, these skins are at the mercy of the latest trends, typically becoming obsolete within a few months. Along with a financial cost to the player, these purchases have an environmental cost. Each discarded skin, rather than ending up in landfill like their physical counterpart, is instead stored in a highly energy intensive data center.
High-profile gamers including CaptainPuffy, ShivFPS, FreyzPlayz and fifakillvizualz, uncharacteristically reverted to a basic, default skin for a whole week as part of the #ReSkinChallenge. They also wore the same physical outfit on their streams for the duration of the challenge, stirring confusion among their fans. At the end of the week-long challenge, the streamers revealed the challenge to their communities and encouraged them to play wearing their very first, or default, skin – with Vanish donating £20 (around 25 USD) to Oxfam for each stream shared.
David&Goliath
Advertising/Full Service/Integrata
El Segundo, Stati Uniti
See Profile
David&Goliath + San Diego Zoo Wildlife Alliance
In partnership with the San Diego Zoo Wildlife Alliance (SDZWA), David&Goliath released a PSA thanking conservation allies and supporters for their commitment to a world where all life thrives. Playing off of the theme song of The Golden Girls, the PSA shows that protecting Earth's biodiversity is only possible through the support of allies around the globe and that deserves to be celebrated! Conservation starts with people.
The spot follows community-led conservationists singing the song in different locations — from duos in the rainforest observing a sloth on a tree, another pair tending to a large tortoise, a rock climber checking in on unhatched owl eggs along a cliff, to a safari conservationist recording an endangered rhino on the savanna. It ends with the tagline "Thank you for supporting wildlife conservation. Without you, there's no them." It's not only a show of gratitude but also an invitation for more people to become friends of wildlife around the world by supporting SDZWA. To become a friend and support the SDZWA visit www.sdzwa.org/friend.