David&Goliath
Advertising/Full Service/Integrata
El Segundo, Stati Uniti
See Profile
Luis Velasco
SVP & Marketing Head
—
Honeybee Foods Corporation
We sat down with David&Goliath's Executive Creative Director, Josh Miller, and Jollibee Foods Corporation of North America's Luis Velasco, Senior VP and Head of Marketing, to learn more about their hilarious campaign for the new Jollibee Chickenwich.
How are you looking to help Jollibee Foods Corporation of North America expand their reach in North America and what challenges is the brand facing?
JM: Jollibee was founded in the Philippines over 40 years ago and is the biggest QSR in Southeast Asia, so naturally, the brand has an incredibly loyal customer base in the North American Filipino community. It's palpable, and amazing to see. Our goal to expand here is quite simple. We want to introduce the joy of Jollibee to a new audience in way that doesn't alienate their base, but embraces it.
As far as launching the Chickenwich, our biggest challenge was figuring out a way to be heard in a conversation that's filled with so many other voices, all of whom have the ability to speak so much louder than we can.
What makes David&Goliath the right agency for Jollibee Foods Corporation of North America to partner with?
JM: Jollibee is relatively new to North America and has a fraction of the budget of our competitors. They're quite literally the "David" of the fried chicken QSR category. Can you think of a better agency for them to partner with than David&Goliath?
The "Chicken Sandwich Justice" campaign is reminiscent of late-night ambulance chaser attorney ads for law firms during the late '90s and early '00s. Why was this the chosen direction for the campaign?
JM: Ultimately, we knew if we just got the Chickenwich in people's hands and mouths, it would sell itself. So to increase trial, we decided to, well, give them away for free.
Our client wanted hard-hitting and gave us permission to take off the gloves — so we decided to parody a genre of advertising that's about as hard-hitting as it gets: the genre of ambulance-chasing lawyer ads. That's how we came up with our Chris P. Poultry campaign.
It was a way for us to increase trial and stand out from the clutter of the category, while actually engaging with our audience and participating in the chicken sandwich conversation online (which I might add, is incredibly impassioned).
We introduced a lawyer of our own, Chris P. Poultry, Chicken Sandwich Attorney-at-Law.
As his name and title suggest, Chris P. doesn't take chicken sandwich justice lightly. He fights tirelessly against the indignities of dry, tasteless chicken sandwiches, and advocates for everyone's right to the chicken sandwich experience they deserve. Because as Chris P. Poultry says, "Dry, tasteless chicken sandwiches aren't just bad. They should be illegal."
We created :15s and :30s, and a super-fun, long-format piece, but truthfully, we got just as excited about embracing the other kinds of media that lawyers use: bus benches, bus shelters and competitive OOH. We even did an aerial banner — and put Chris P.'s business cards on the windshields of cars parked in competitors' lots.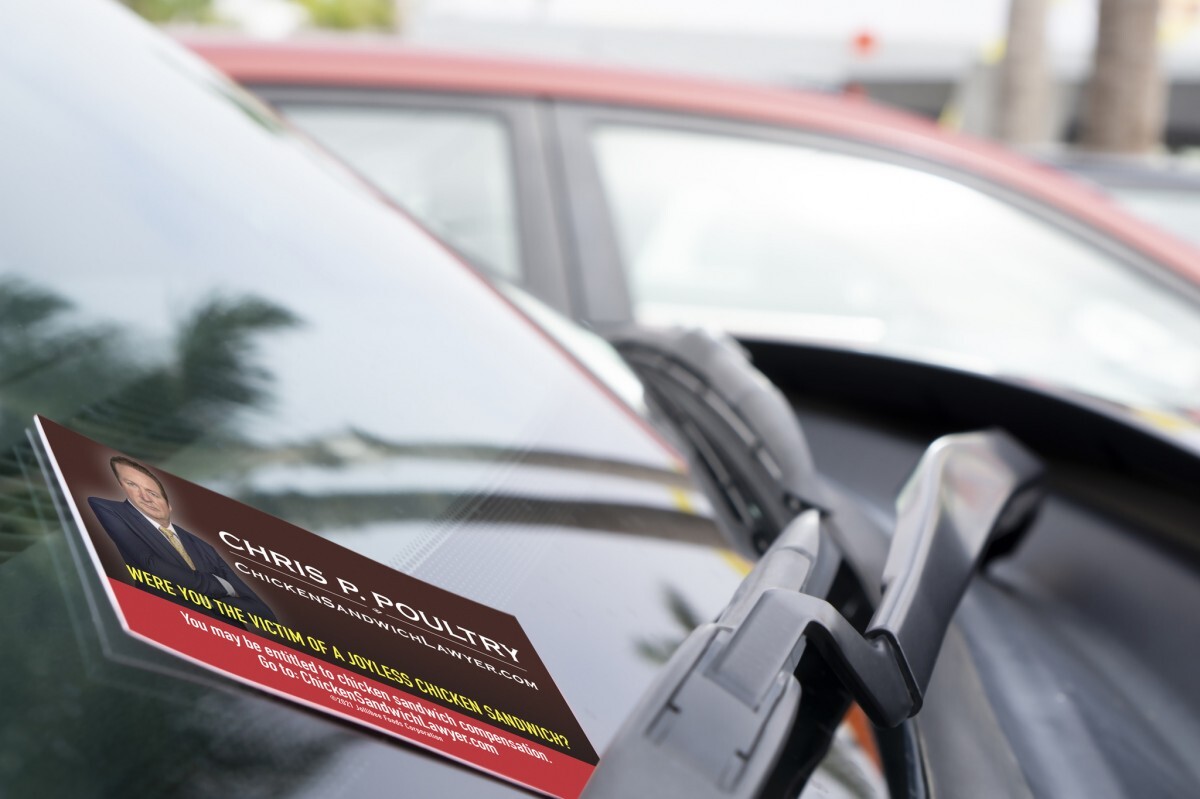 How is the campaign performing? What has the public reaction been?
JM: Great! We far exceeded our initial expectations, with more than double the projected unique site visits, 24% above-average coupon redemption rates, and a whopping 17% lift in average daily sales for the Chickenwich vs. pre-campaign period. But creatively, what's just as rewarding is seeing some of the posts and comments about the work on social. It was great to get real-time positive feedback and responses from people experiencing the work out in the world.
Can we expect to see more of Chris P. Poultry in the future?
JM: Short answer, yes. They've extended the flight through mid-December. Plus, and I can't say too much, but I heard he's negotiating a book deal.
-
How does the Jollibee Chickenwich differ from other chicken sandwiches; what makes it special?
LV: Jollibee has long been spreading the joy of eating and togetherness through its world-famous fried chicken, Chickenjoy, and we're thrilled to now be bringing that same joyfully delicious passion to the launch of the Jollibee Chickenwich.
The Jollibee Chickenwich has been specially brined and double hand breaded to deliver the right amount of crispiness and juiciness in each bite. Added elements such as the savory umami mayo, complement the flavor profile of the sandwich and meld perfectly with the toasted brioche bun. For those craving a spicier experience, the Spicy Jollibee Chickenwich features a one-of-a-kind sriracha mayo and fresh crunchy jalapeños to really bring the heat. Both the Original and Spicy Jollibee Chickenwich are also available in deluxe versions with added lettuce and tomatoes.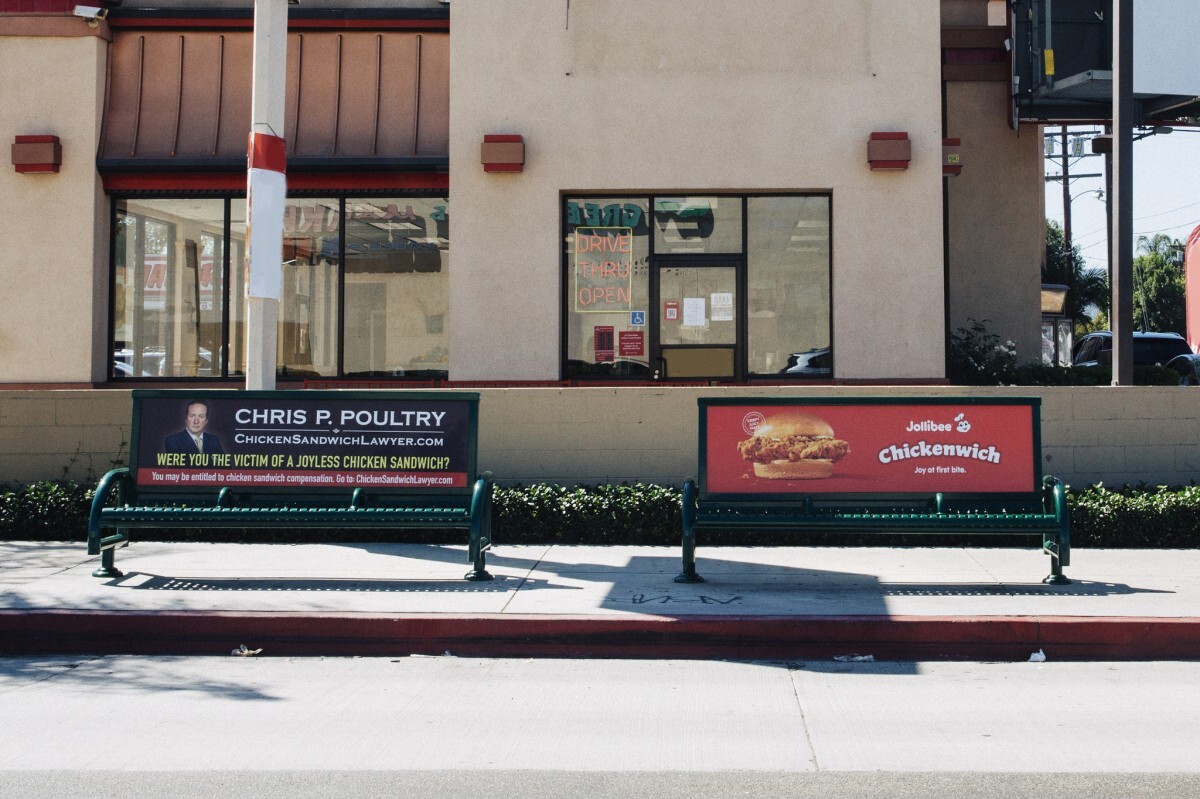 What inspired Jollibee Foods Corporation's desire for North American expansion?
LV: The Jollibee Group's aspiration is to become one of the top-five restaurant companies in the world, with North America representing a key region for us as we work toward this goal.
Our mission as we grow is simply to spread the joy of eating through great-tasting food. Delicious food knows no barriers and we are seeing people coming to love our products, no matter where they're from. So, the inspiration to aggressively grow our network comes from our desire to give more people an opportunity to experience the same great taste and joy that only Jollibee can bring.
The chicken category in North America has also been exploding and seeing phenomenal growth. With over 40 years of experience in the industry and being world-famous for our fried chicken offering, Chickenjoy, and now introducing the Jollibee Chickenwich, Jollibee is really primed to experience tremendous growth and increased brand love across the U.S. and Canada.
Helping an international brand break into an untapped market can be quite difficult, what steps are you taking to ensure positive exposure?
LV: Jollibee has experienced tremendous success in the North American market through disciplined focus on what our brand is about – superior taste, great value, and joyful service. Everywhere in the world you go, you will find that Jollibee is always about those three things. Through both good times and in times of crisis, we've stuck by those same principles.
Our organization is also very passionate about food quality. Whether we're starting as a small brand in a new market, or as the dominant brand in our home country, we've never lost sight of our high-quality standards.
Finally, we've learned a very important lesson over our years of operation in international markets which is for us to always remain authentic to who we are and to not change our identity to conform to a country's traditional fast-food offerings. In North America, our menu has seen some additions in response to the marketplace, such as our Jollibee Chickenwich and Chicken Tenders, but fundamentally, Jollibee's success comes from providing consumers with a joyful experience that is unique from the other fast-food offerings out there.
As you continue North American outreach, can we expect more interactive campaigns like "Justice is Best Served Crispy."?
LV: Absolutely. At Jollibee, we're all about spreading joy, so it's safe to say we're always thinking about how we engage and excite our fans with our brand, campaigns, and new product launches.
"Justice is Best Served Crispy" was created to inspire people to reconsider their chicken sandwich options and break away from the 'good enough' or tasteless, dry, soggy or bland chicken sandwiches. The creative is driven by a fictional chicken sandwich advocate, Chris P. Poultry, who is ready to fight for people's right to experience a joyful, crispy and juicy chicken sandwich. In return for any chicken sandwich distress consumers have suffered at the hands of other chicken sandwiches, Chris P. provides everyone a solution - Jollibee's juicy, crispy, and tasty Jollibee Chickenwich. We are proud of our product and we're confident people will love it once they try it.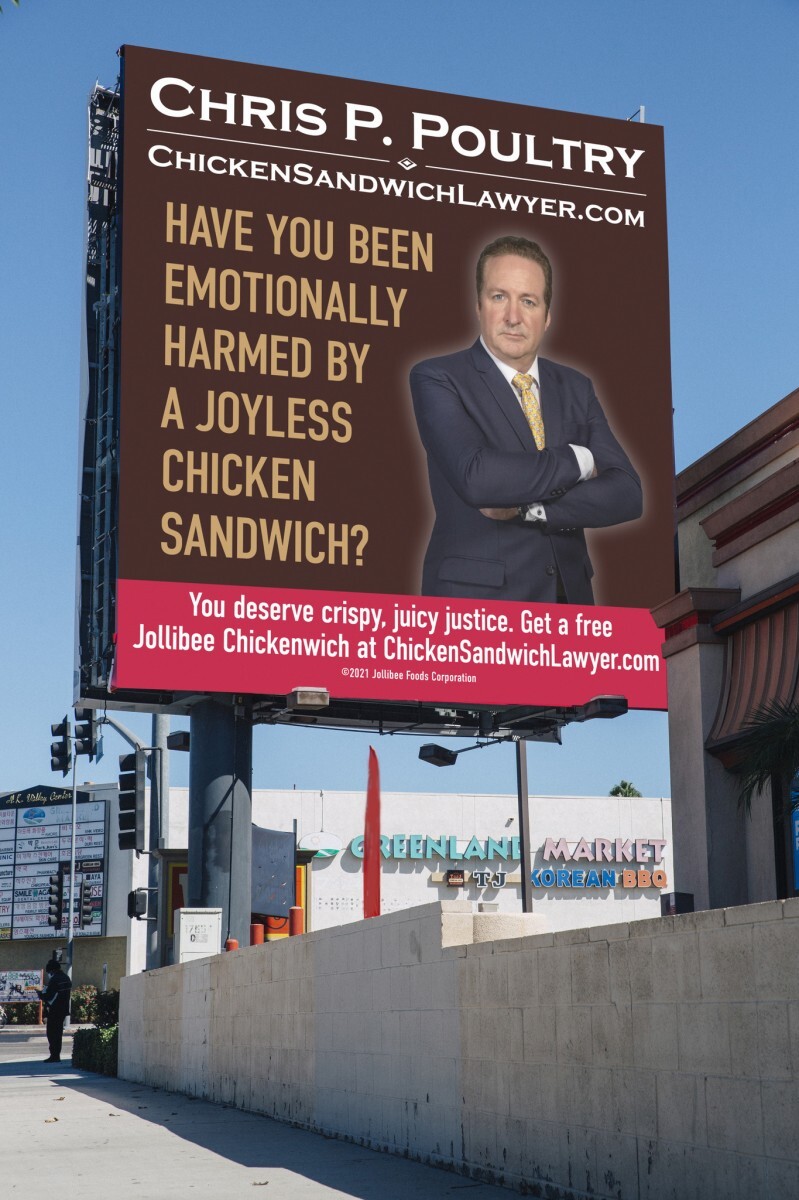 Where is Jollibee Foods Corporation of North America looking to expand next?
LV: Jollibee has enjoyed tremendous success and growth recently, even during the height of last year's pandemic, and continues to see strong sales at our restaurants. We've been one of the fastest growing chicken brands the past couple of years and we're one of the top 3 in terms of AUV (average unit volume) – in large part because of our loyal customers and brand advocates.
Jollibee's goal is to continue aggressively expanding across the U.S. and Canada, as we work towards amassing 500 stores within 5-7 years. Our fans can check our Jollibee USA and Jollibee Canada Facebook pages for the latest updates on where we'll open next!