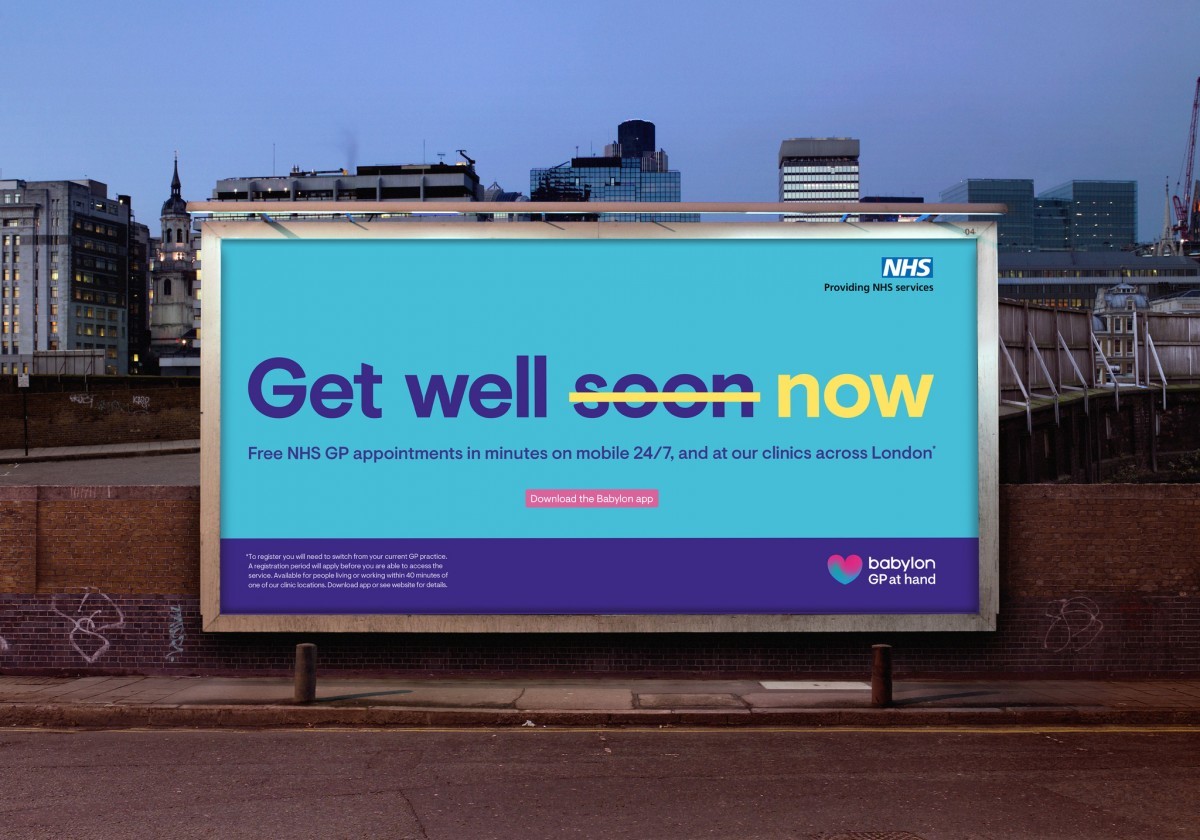 Karmarama have created an advertising campaign promoting digital healthcare service Babylon GP at hand, which exists to bring instant, high quality healthcare into the hands of everyone. The Babylon GP at hand service has been created with people in mind to better serve the ever-changing needs of patients, and in turn, gives patients more control of their health.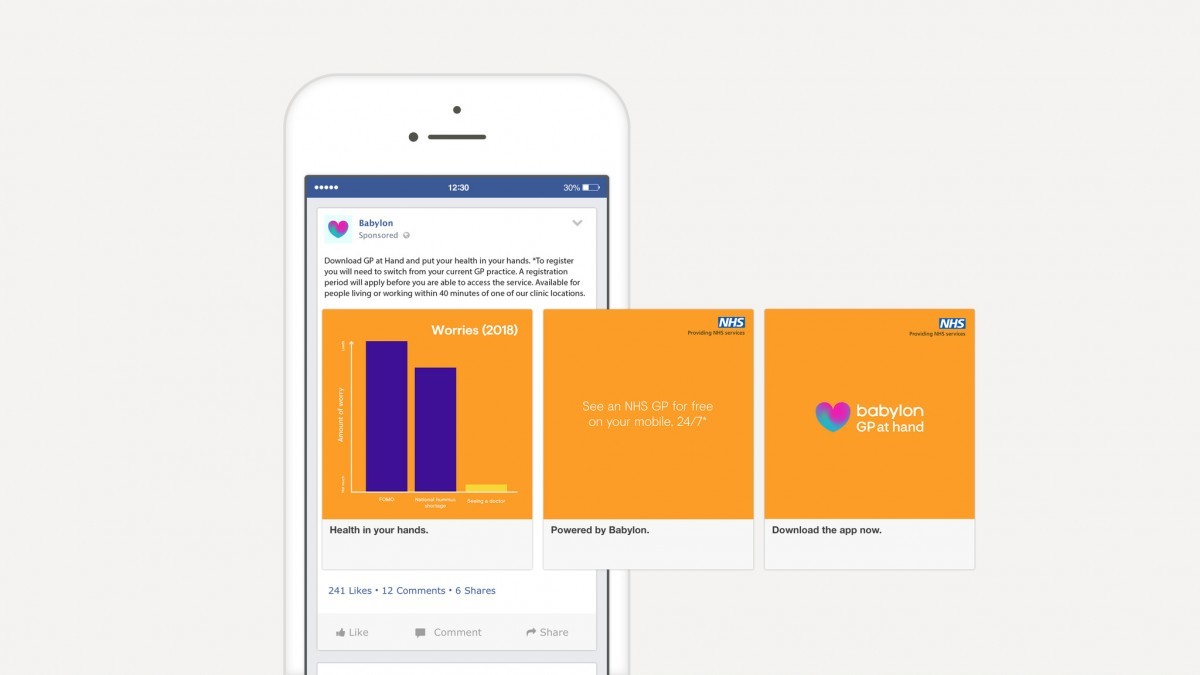 The disruptive, copy-led campaign heroes the immediacy of the service which puts the power in patients' hands. Among many features, the app allows patients to book an appointment with an NHS GP via video chat, send prescriptions digitally to a local pharmacy and allows them to check their symptoms with an AI-enabled symptom checker.
From the 5th November 2018 the work will run on Instagram and Facebook, as well as OOH sites across the capital. Punchy headlines across OOH play on the phrase "Get Well Soon", which have been edited to "Get Well Now" against vibrant backgrounds. On social, the tongue-in-cheek executions play with cultural memes and references, positioning Babylon GP at hand as the most 2018 way to access healthcare.
Brian Williams, Executive Creative Director at Karmarama, said "For many, healthcare is less accessible than an artery-clogging pizza. Babylon is bringing change to this space akin to the changes that have revolutionised travel accommodations, music, and transportation, and we're proud to collaborate with them as they shrink the distance between Londoners and healthcare to a matter of minutes."
The Babylon GP at hand service is currently available in London, and the Babylon app is available globally. Karmarama were awarded the campaign following a competitive process run by the AAR.
Give us an overview of the campaign, what is it about?
The phrase "the doctor will see you now", usually follows an unwanted wait. And for some reason, we've come to accept it. But Babylon believe healthcare should be as on-demand as the rest of your life, as quick as a contactless payment and as simple to check as your online banking. It's an amazing ambition to create work for.
We wanted to flip common preconceptions of the healthcare experience and broadcast the simple message that your health shouldn't wait. The campaign subverts well-known phrases and jumps on out-dated social memes to position Babylon as the contemporary version of healthcare - not 'we'll see you in the morning' but 'we'll see you now' – the campaign is all about putting health in your hands.
Which insight led to the creation of this piece of work?
These days, you can get a taxi in 10 minutes, order a pizza in 20, yet when you need to see a doctor, you may have to wait days. Sometimes weeks.
In 2018, seeing a GP should be the last thing people should have to wait for, but until now has remained relatively unaffected by an increasingly instant society.
What was the greatest challenge that you and your team faced during development.
It's a new service and it's in the much talked about space of health tech.
This means that the trust amongst consumers needs to be built from scratch. While early adopters have jumped straight in, we wanted to talk to a wider audience – showing that this is a service for everyone, not just the brave and tech savvy.
The greatest challenges were boiling down a technologically-advanced service in to a piece of communication that can be read and understood in seconds, by all generations.
What did you enjoy most about seeing this campaign through? Did you learn anything new from the experience?
We've spent a lot of time over the last couple of years working on experience and innovation-led projects. This campaign gave us an opportunity to refocus on our advertising craft skills, creating work with just great persuasive copy and bold graphic art direction – it was nice to get back to basics! We're also delighted that besides small design tweaks, the work we pitched is the work that the public gets to see.
Where do you see this campaign going in the future?
Babylon's mission is to put an affordable and accessible healthcare service in to the hands of everyone on earth – so no small task! But what an amazing ambition and something we'd love to be part of.