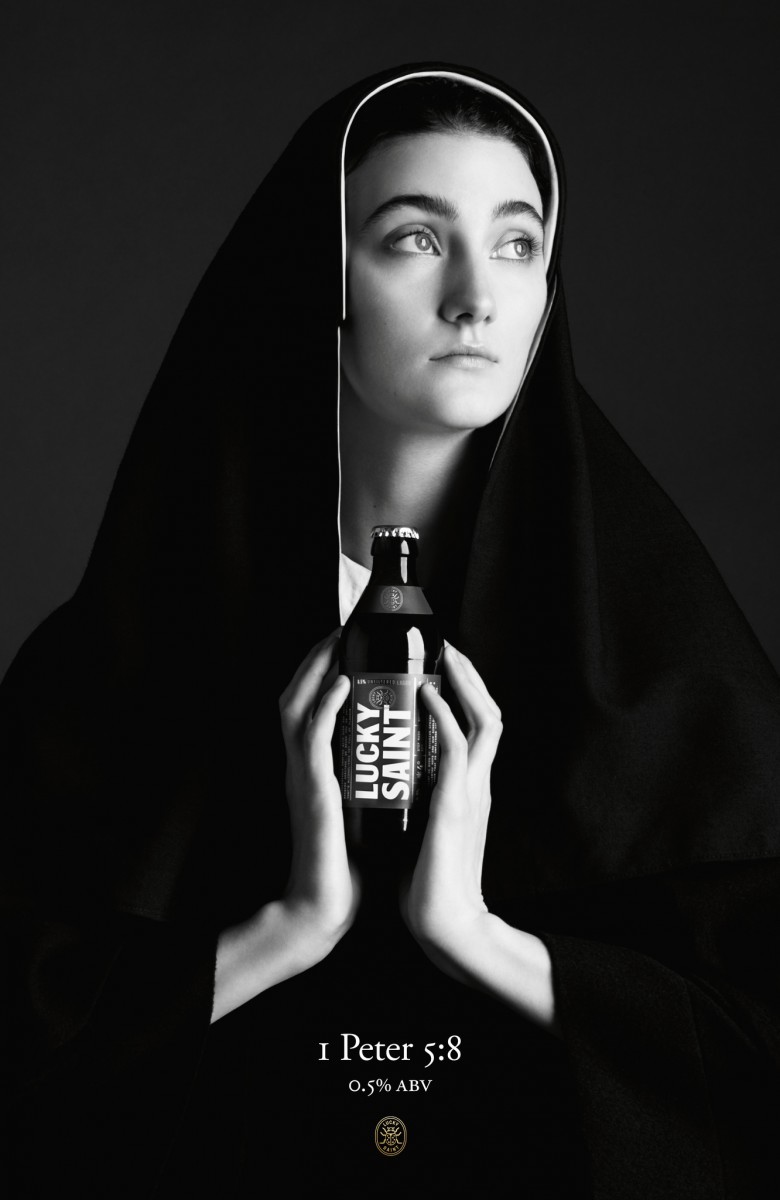 Karmarama have created a striking out of home campaign for new alcohol-free beer brand, Lucky Saint. The launch campaign features iconic black and white images of a saintly nun drinking a Lucky Saint Unfiltered Lager and a cryptic Bible verse.
The lines in the posters include '1 Peter 5:8' – a reference to a passage from the Bible "Be Sober, be vigilant; because your adversary the devil, as a roaring lion, walketh about, seeking whom he may devour:"
Lucky Saint was created by founder Luke Boase with one distinct priority – flavour. The beer is independently brewed in Bavaria and is available in a host of venues across London's premium on-trade.
Boase said of the launch, "I wanted to change how the world thought about alcohol-free beer so I shared the idea of an alcohol-free beer worth drinking with some industry folk and they told me I'd be better off making fizzy drinks. 2 years, 3 countries, and 6 brewers later and Lucky Saint is here"
The photography for the campaign was shot by world-renowned photographer, Rankin.
Nik Studzinski, Chief Creative Officer at Karmarama said of the work "We're delighted to work with Lucky Saint, and with Rankin, to create such beautiful, iconic images that reflect the quality of the brand."
Karmarama were recently appointed by Lucky Saint without a pitch.
Tell us about your role in the creation of this work.
We are the creative team behind Lucky Saint's launch campaign. The idea of a nun drinking alcohol-free lager came from a beer-fuelled (yet entirely sober!) workshop with the client.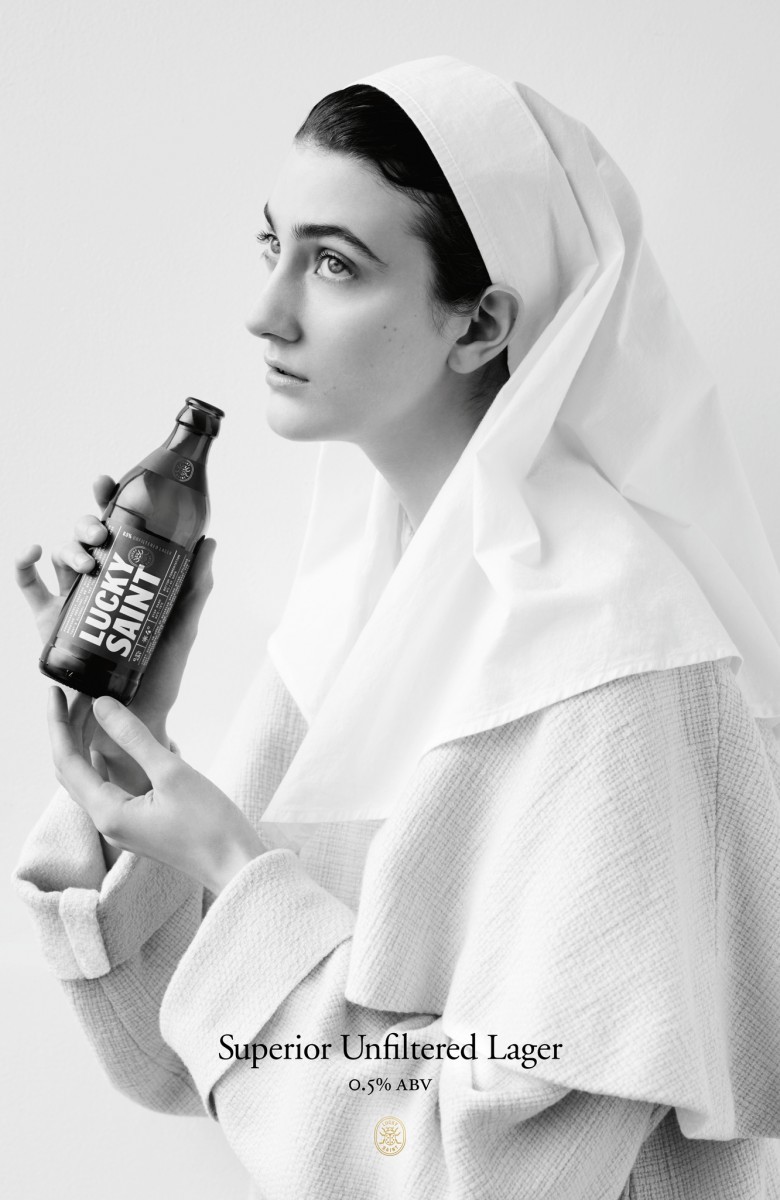 Give us an overview of the campaign, what is it about?
The work, shot by Rankin, launches Lucky Saint by virtue of a saintly nun drinking lager. One image features the product line and the other, a bible verse.
Tell us about the details creative brief, what did it ask?
The brief was to raise awareness of Lucky Saint as the superior alcohol-free beer and get people to drink it!
Which insight led to the creation of this piece of work?
Lucky Saint is brewed in such a way that retains all the flavour and character of a great lager, but none of the alcohol. As a result, we could do things typical beer advertising couldn't, and show people you wouldn't expect to see drinking the beer. This felt like new territory to explore.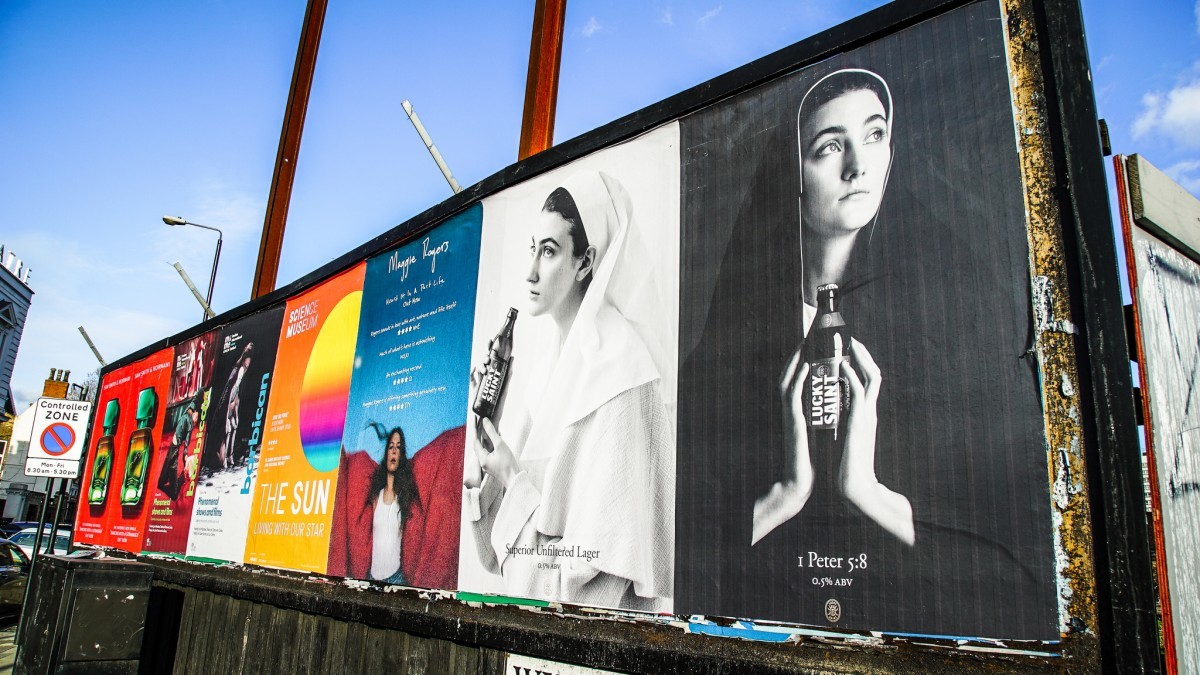 Can you share with us any alternative ideas (if any) for this campaign? Why was this idea chosen?
We thought about photographing other people you wouldn't expect to see drinking beer, such as a pilot mid-flight or a surgeon. But we kept coming back to the image of a nun as it felt right for the brand and (quite literally) the purest expression of our idea.
What was the greatest challenge that you and your team faced during development.
Convincing the team to go with the obscure bible verse as a headline, knowing our demographic wouldn't immediately know the reference; they'd have to google it. We had other headline options but we felt this was the most intriguing and true to the idea, albeit a leap of faith.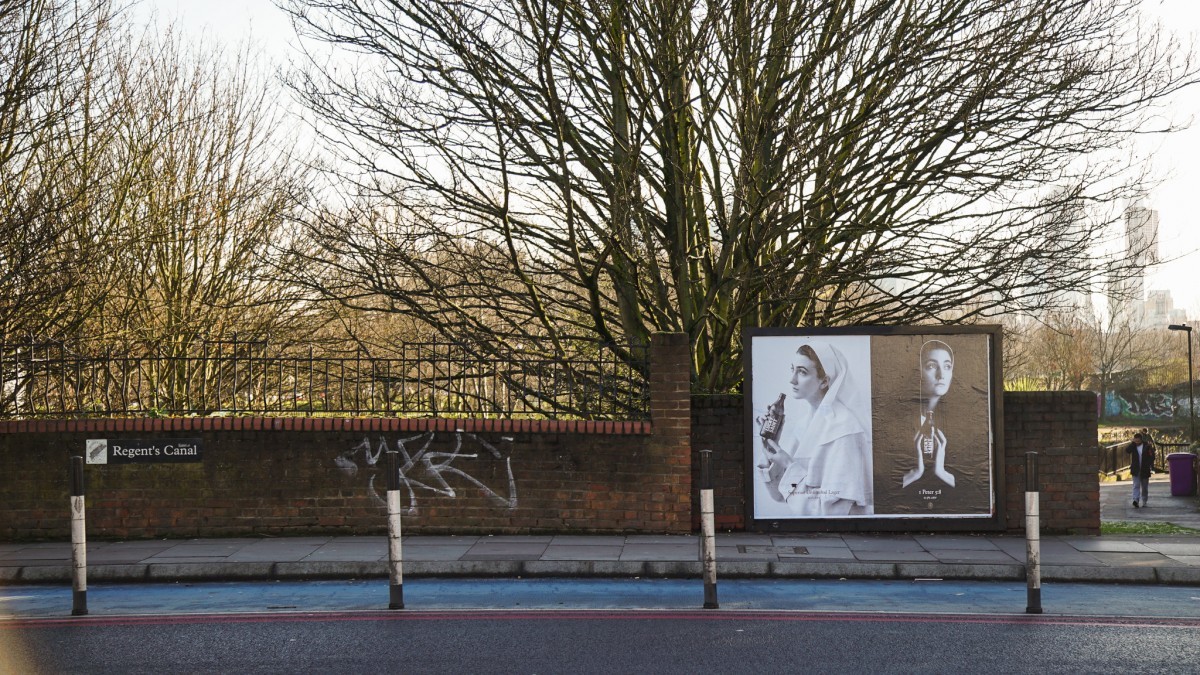 What did you enjoy most about seeing this campaign through? Did you learn anything new from the experience?
Working so collaboratively with Luke (the founder) and his team was really productive. As this was their first ever campaign, we had the chance to really push the creative and Luke put a lot of trust in us from the beginning. We also learnt that a great idea can come from a workshop! Who knew?
Also, working with Rankin was of course an incredible experience and not something you expect to do for every campaign. We learnt to stop limiting our ambitions and keep knocking on doors, because it paid off this time.
Where do you see this campaign going in the future?
Lucky Saint has a glorious future ahead, so watch this space.